You've got to have it all. A streamlined tube-shaped design that subtly coordinates with your contemporary home décor. The new BoomBlaster RV-S series is a Boombox with a style that you can take with you anywhere.

You've still got it. Beneath that polished exterior is a b-boy ready to bust a move. With 40 watts of raw power, a pair of superwoofers and a sleek design, the new BoomBlaster RV-S series is you – cool styling outside and bone-rattling passion inside.
Sleek new generation boombox
Beauty inspired by function. The unique tube form of the BoomBlaster RV-S series is ideal for positioning a superwoofer at each end. Minimalistic streamlined shape with no unsightly or unnecessary decoration. It's a boombox with a style.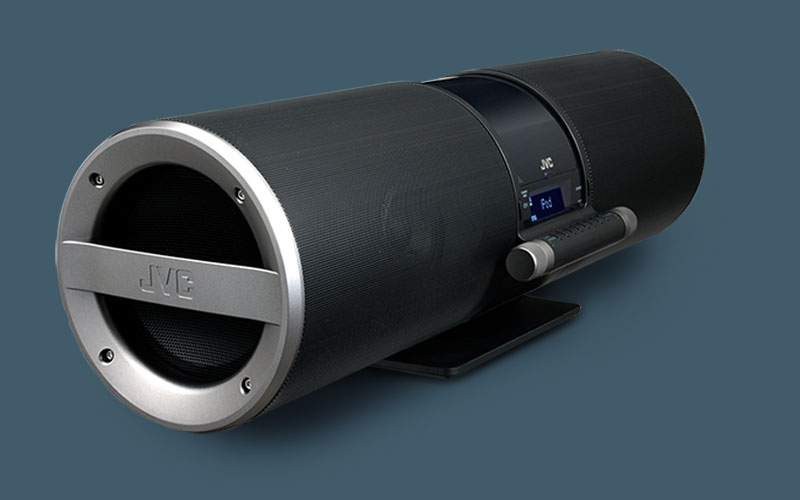 BoomBlaster featuring famous signature twin superwoofers
For powerful deep bass, the twin 13cm superwoofers are located on both sides of the BoomBlaster. They are symmetrically driven back to back to minimise chassis vibration while the tube-shaped cabinet and bass-reflex ducts on the back carry strong sounding bass with less resonance.
Discreetly placed iOS dock
A Stylishly designed dock with a transparent sliding cover protects your iPhone/iPod smartly. You can activate the device with the remote control while checking the screen through the see-through cover.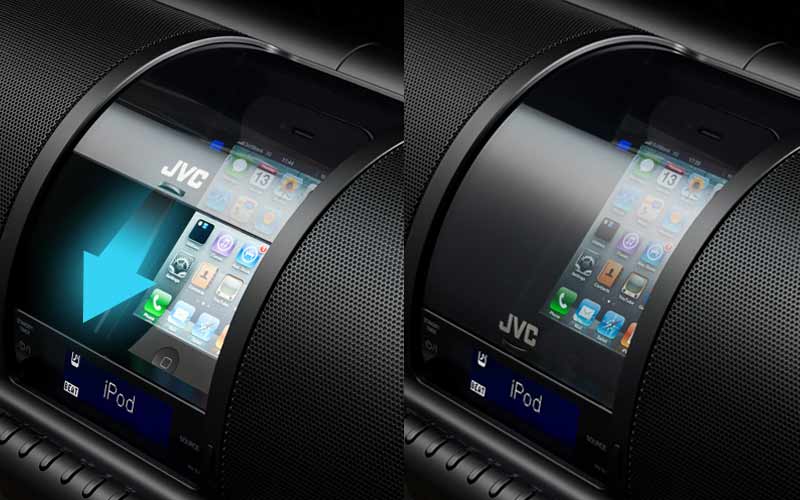 Dedicated amplifiers for high fidelity
Two main speakers and two superwoofers are driven by four dedicated amps for a total of 40 watts of power. They not only maximise output but also minimise interference, delivering powerful and clearer sound.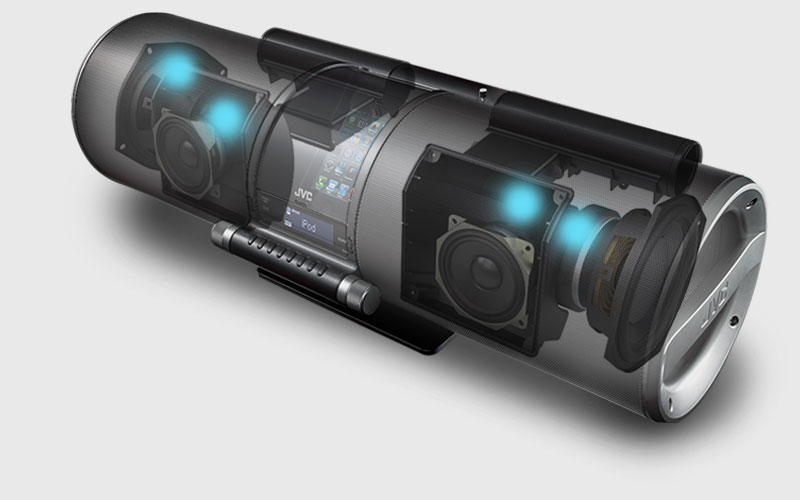 A new stylish look all-round
To achieve a streamlined look and easy operation, all control buttons and knobs are discreetly placed on a sleek cylinder rod. The metallic knob on the right is dedicated for volume control for the superwoofer.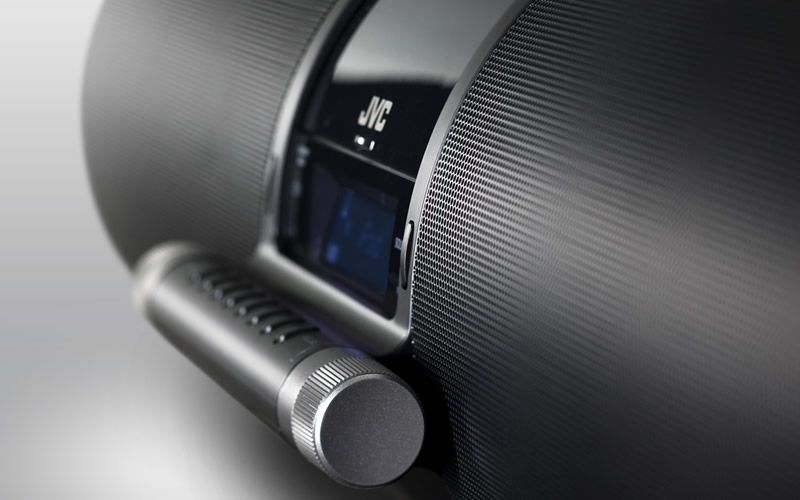 "Smart Age" connectivity
The BoomBlaster RV-S series feature various input choices for your music. Connect your media via the dedicated iPhone/iPod dock, two* USB ports (One for iPhone 5*) and an SD-card slot. Additionally you can listen to the FM radio or DAB+** digital radio.
*Only RV-S1, S3. RV-S5 has one USB port.  **Only RV-S3
Power to play wirelessly
RV-S5 features wireless play with AirPlay and DLNA. Connection is very easy with only a few steps, it is unnecessary to prepare a router. You can just use wireless play from day one. Or if you have a router, you can play all the music stored in your server like a NAS. It's a powerful and smart way to enjoy your music.
| Lineup + Features | RV-S1 | RV-S3 | RV-S5 |
| --- | --- | --- | --- |
| OUTPUT POWER | Total 40W (5W+15W)x2 | Total 40W (5W+15W)x2 | Total 40W (5W+15W)x2 |
| POWER SUPPLY | AC / DRY BATTERY | AC / DRY BATTERY | AC / DRY BATTERY |
| Radio Tuner | FM (RDS) | FM (RDS) | FM (RDS) |
| Digital Radio Tuner | - | DAB+ | - |
| USB HOST (PLAY) | 2 (1 for iPhone 5) | 2 (1 for iPhone 5) | 1 |
| SD SLOT | 1 | 1 | 1 |
| iPhone dock | 1 | 1 | 1 |
| Support playback format (USB,SD) | MP3/WMA | MP3/WMA | MP3/WMA |
| Video out for iPod dock | YES (Composite) | YES (Composite) | YES (Composite) |
| iPhone 5 compatible | Via USB 2 | Via USB 2 | Via Air Play |
| Audio In (Stereo mini) | 1 | 1 | 1 |
| Bluetooth | - | - | YES |
| DLNA | - | - | YES |
| Airplay | - | - | YES |